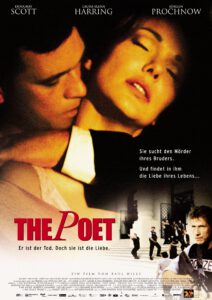 Genre: Thriller – Drama
Rental: Studiocanal
Direction: Paul Hills
Book: Barbara Jago, Robert Hammond
Cast: Dougray Scott, Laura Harring, Jürgen Prochnow
Producers: Arno Ortmair
Co-Producers: Film-Line Productions, Eclypse Wien, Meltemi London
Funding: FFF, FFA. Media Fonds
More info + Team/Cast: ImdB
Synopsis:
Andrei Loisin is a highly paid hitman, a former high Russian officer, called "THE POET" because of his extraordinary education. One day, a young photo artist (Rick Stern) surprises him during an assassination attempt. Andrei shoots him. Rick's death changes Andrei's life: He finds disturbingly fascinating pictures of a dead young woman at Rick's. Andrei is irritated; he wants to know more about Rick. When Andrei attends a vernissage of the young artist, where his paintings are shown post mortem, the apparently dead woman from Rick's paintings is standing next to him: Paula Stern (28), Rick's sister, is an attractive young woman. Paula is fascinated by the mysterious, silent Andrei; she has no idea that he is her brother's murderer. Andrei combines everything she has been missing. A passionate relationship develops between the two. It seems that Andrei could fill the gap in Paula's life that Rick left behind. For the first time, Andrei is confronted with the grief caused by one of his murders. As his feelings for Paula grow stronger, he loses his ruthlessness and he makes his first mistakes. When Andrei realizes that he can no longer live without Paula, he wants to leave the organization and start a new life with Paula. Andrei cannot turn back the clock. His frequent encounters with Paula leave too many traces and make him more and more visible to the police and his clients. His clients threaten him: if he doesn't continue, Paula's life will be in danger. The net of the pursuers closes ever tighter. But Andrei cannot simply flee, because he has to protect Paula. But eventually Paula will learn the truth about Andrei's past. When he realizes that there is no future for her anymore, he takes fate into his own hands...