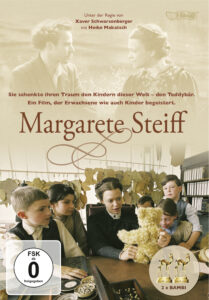 Genre: Drama
Year of production: 2005
Tv channel: SWR, BR, ARTE, ORF, RAI
Direction: Xaver Schwarzenberger
Book: Susanne Beck, Thomas Eifler
Cast: Heike Makatsch, Felix Eitner, Hary Prinz, Suzanne von Borsody, Herbert Knaup, Harald Krassnitzer, Bernadette Heerwagen
Co-Producers: Film-Line / München, EPO-Film Wien, Mediafonds2 / München
Funding: FFF Bayern, MFG, MEDIA Plus, RTR und FFW
More info + Team/Cast: Imdb

Synopsis:
Everyone knows the world-famous teddy bears from the Steiff company. But hardly anyone knows about the life story of the mother of Steiff animals. Margarete Steiff contracted polio as a toddler and remained confined to a wheelchair for the rest of her life, despite painful operations and treatments. The harsh conditions at the end of the 19th century give the disabled young woman little hope for a fulfilled life. With her incredible willpower, creativity, zest for life and the help of her beloved brother Fritz, she nevertheless manages to complete a school education. She learns the sewing trade and opens her own small business. Out of love for the children, she produces her first Steiff animals. An entrepreneurial success story begins. Whether Margarete will also find her private happiness remains uncertain for a long time.