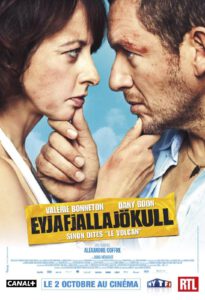 Genre: Komödie
Rental: Canal+
Direction: Alexandre Coffre
Book: Alexanrea Coffre, Laurent Zeitoun, Yoann Gromb
Cast: Danny Boon, Valerie Bonneton
Producers: Arno Ortmiar, Nicolas Duval Adassovsky, Laurent Zeitoun, Yann Zenou
Co-Producers: Film-Line / Quad Productions
More info + Team/Cast: ImdB
Synopsis:
A crazy relationship comedy as explosive as the Icelandic volcano Eyjafjallajökull, whose eruption forces Valeria (Valeriè Bonneton) and Alain (Dany Boon) to land in Munich on their flight to Athens for their daughter's wedding. The couple's attempt to get to Athens in time despite the chaos caused by the volcanic ash cloud ends in a madcap relationship war. Divorced for 20 years and full of hatred for each other, they now have to make the 2100 kilometer journey in the only remaining and hotly contested rental car. A journey full of intrigue, insults and dirty tricks, peppered with dazzling humor.