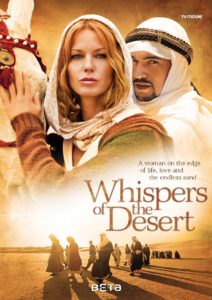 Genre: Liebesdrama
Year of production: 2011
Tv channel: ARD DEGETO, ORF
Direction: Jörg Grünler
Book: Martin Rauhaus
Cast: Esther Schweins, Hannes Jaenicke, Mido Hamada, Asli Bayram, Hans Sigl
Co-Producers: Film-Line Productions / Eclypse Filmpartner Wien / Epo Film Wien
Funding: RTR Fernsehfonds Österreich, FFF Bayern
More info + Team/Cast: ImdB
Synopsis:
Sina (35), a sensitive but strong doctor who does not want to compromise in love, is looking for truthfulness and trust in her relationship with her fiancé (Dr. Marco Zerhau, 39). But he seems to value his career and money more than the medical ethos. Sina falls out with Marco and seeks a new beginning in the Arab Emirates. Her journey to the glittering world of Dubai and the endless expanses of the desert becomes a search for herself and the trust she misses. There she gets to know life in an unknown variety and strangeness and finally finds her way back to her roots, her real feelings and her homeland under moving circumstances.