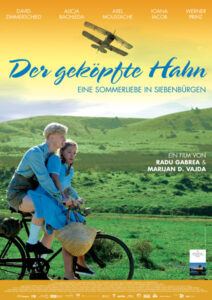 Genre: Drama
Year of production: 2007
Rental: BR / ARTE
Direction: Radu Gabrea, Marijan Vajda
Book: Radu Gabrea, Bert Koß unter Mitarbeit von Wolfgang J. Ruf sowie Razvan Radulescu
Cast: David Zimmerschied, Alicja Bachleda, Werner Prinz, Florian Brückner, Stefan Murr, Marion
Mitterhammer, Victoria Cocias, Ioana Teodora Jacob, Axel Moustache, Agi Margitai
Producers: Arno Ortmair, Dieter Pochlatko, Radu Gabrea, Laszlo Kantor
Co-Producers: Film-Line / München, Epo-Film / Wien, Total TV, Új Budapest Filmstúdió / Budapest
Funding: FFF Bayern, Eurimages, Romanian Film Funding (CNC), ÖFI, ORF FilmFernsehabkommen, Hungarian Motion Picture Foundation, Hungarian Tax Refund
More info + Team/Cast: ImdB
Synopsis:
A story of painful coming of age in a time of extreme upheaval: On
August 23, 1944, in a small town in Transylvania,
Romanian Transylvania, 16-year-old Felix Goldschmidt awaits his friends and classmates for the Exitusfest, the
grand celebration of graduation from school. But the traditional festivity, to which the son
of well-to-do Transylvanian Saxons has invited, will represent a far more serious farewell
than just that from school. For on that day the Kingdom of Romania
breaks away from the hitherto allied Nazi Germany in the face of the advancing Red Army. For the
German ethnic group of the Transylvanian Saxons, many of whom were ultimately involved in an unfortunate
pact with the National Socialists, this means the beginning of the end of their 800-
year old and until then so successful settlement history at the foot of the Carpathians.