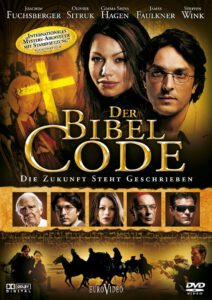 Genre: Action-Thriller
Year of production: 2007
Tv channel: ProSieben, ORF, M6
Direction: Christoph Schrewe
Book: Georg Lemppenau, Timo Berndt
Cast: Cosma Shiva Hagen, Olivier Sitruk, Joachim Fuchsberger, James Faulkner, Steffen
Wink, Miguel Herz-Kestranek
Co-Producers: Film-Line Productions / Eclypse Filmpartner Wien / Epo Film Wien
Funding: FFF Bayern, RTR Fernsehfonds Österreich, Cinestyria Filmcommission
und Fonds, MEDIA DEVELOPMENT Brüssel
More info + Team/Cast: ImdB
Synopsis:
The Book of Books hides a thousand-year-old secret that is supposed to protect mankind from coming disaster: The Bible code! A scientist (Miguel HerzKestranek) is able to decipher parts of it and must pay for it with death. Now his daughter Johanna (Cosma Shiva Hagen) is to continue his life's work and, together with the smart French historian Simon (Olivier Sitruk), prevent an attack on the church and save millions of people ...