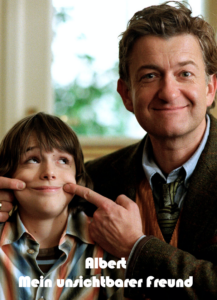 Genre: Komödie
Year of production: 2006
Tv channel: Sat1, ProSieben
Direction: Jorgo Papavassiliou
Book: Rodica Doehnert
Cast: Dominic Raacke, Susanne Simon, Dominique Horwitz, Ingo Appelt, Oscar Ortega Sanchez
Producers: Arno Ortmair, David Groenewold, Gerd Reinsberg
Co-Producers: Film-Line Produktion 2, GFP, Mediafonds2
More info + Team/Cast: Imdb
Synopsis:
Once Max, Anna and Daniel Spielhagen (Dominic Raacke, Patricia Schäfer, Johann Hillmann) were a happy family. Max ran the toy company "Traumfabrik", an old family business, with a lot of enthusiasm and great success. He tried out every toy and always had new crazy ideas. However, after the sudden death of his wife, Max suddenly becomes strange: he starts talking to an imaginary person named Albert, who supposedly accompanies him all the time, but is not visible to anyone else. Soon Max's older brother Siegbert (Dominique Horwitz) has him committed to a psychiatric hospital and takes over the management of the company. Poor Daniel has to move in with his uncle and aunt (Rosa Enskat), who don't treat him very well. One evening he overhears their plans: Max is to be incapacitated, he himself is to be put in a home, and the company is to be sold. Daniel is horrified! That same night, he helps his father escape from the clinic. Together they want to prevent the sale of the "dream factory", but the very next morning Max is wanted by a manhunt as a crazy kidnapper of his own son. Chief Inspector Edgar Eder (Erdal Yildiz) follows his heels relentlessly. But Max is not the only one interested in the "dream factory": Lena Sommer (Susanna Simon), his assistant and long-time employee, is also fighting to keep her job - probably because she is secretly in love with Max. When Lena meets with the Chinese prospective buyer Dr. Bing (Yu Fang) and at the same time her little daughter Lisa (Anne Tietz) disappears, the situation threatens to escalate...